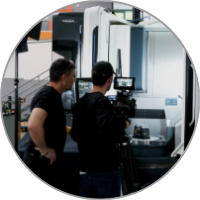 13.09.2023
Video shooting at Allmatic
Already one year before the fair we think about how we can offer you an unforgettable fair appearance. For this purpose, we sat down in a small team and collect ideas.
This happened again this time for EMO 2023. Numerous ideas were collected and the possible implementations were considered. In the end, we agreed among other ideas. We not only want to show you our products, but also make them more approachable through an application. For this implementation, we have picked out possible companies that maintain similar values as we do.

For EMO 2023, we therefore planned an application with the company Allmatic. After the first internal discussions, we worked out a concept and it was clear: We will shoot a film with our customer Allmatic. Now it was time for planning and implementation. An agency had to be found, a shooting date set, a storyboard drawn and a program for the machine written by Allmatic. After these and many other small tasks were done, we could finally start.

We set off on 23.05.2023. Meeting point was in the late morning at Allmatic in the production. After our film team from silberstern had set up the equipment and discussed the necessary settings, the shooting began. With good catering from Allmatic the shooting went very fast. After only a few hours we had all scenes in the can. Afterwards we sat together with all participants and went to a final lunch.

After just a few weeks, we received the first draft for the process flow from silberstern. After a few correction phases, we were able to successfully complete the project.

Are you curious about the result? Visit us at our booth B54 in hall 4.

We are looking forward to meeting you!