Small volume production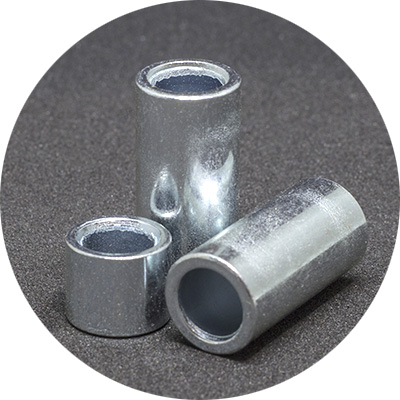 Task
Special machine – Adjusting bush
Bush made of X12CrS13 (1.4005) or S235JR (1.0038)
36 mm deep blind hole thread M14x1,5-6H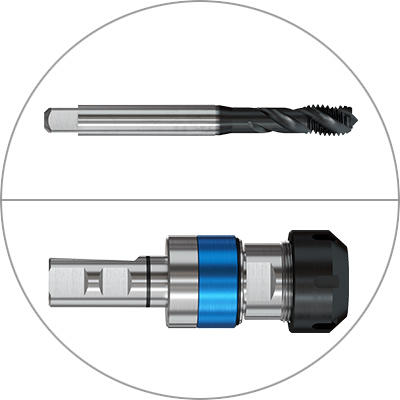 Solution
NORIS SALOREX UNI
For a wide range of materials
Suitable for blind hole or blind hole
Thread depth up to 3 x D
Available chamfer length C and E

Universal cutting edge geometry for a wide range of materials

NORIS HELIXPRO 3
acts as damping element between synchronous spindle and tap/thread former and thus compensates pitch differences between thread tool and synchronous spindle
has the high concentricity accuracy of a rigid tool holder
Clamps the tap/thread former firmly with collets with square receptacle
does not require tools with special shanks
ensures process reliability during synchronous thread production

Minimum length compensation for efficient thread cutting

Customer benefit
Flexible
Low storage
cost reduction
REIME NORIS also has the right solution for your task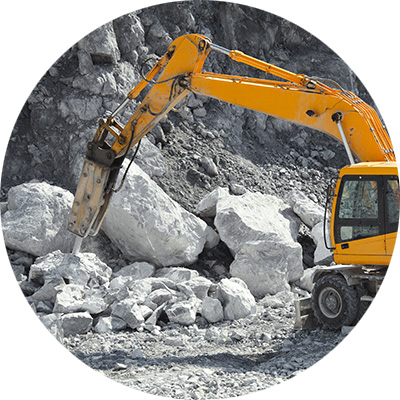 Task
Hydraulic hammer – percussion housing
Welded construction of S690QL (Rm: 770 – 930 N/mm²)
24 mm deep through thread M16-6H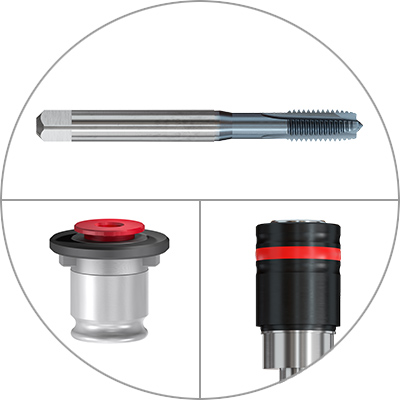 Solution
NORIS STABIL UNI
NORIS-STABIL machine taps for through threads up to 4 x D thread depth. Due to the special geometry of the STABIL clamping grooves, the resulting chips are discharged continuously in the cutting direction and chip accumulation is effectively prevented.

Universal cutting edge geometry for a wide range of materials

NORIS WE-MKBA + NORIS UNI/HP
Internal cooling lubricant supply, along the tool shaft
up to 50bar cooling lubricant pressure at chuck inlet
Tool adaptation via quick-change inserts

The quick-change holders of the UNI/HP series are primarily intended for use on CNC machining centres, CNC lathes and conventional machine tools.

Optimized chip removal by cooling along the tool shank.

Customer benefit
Process reliability
Persevering
Universal
REIME NORIS also has the right solution for your task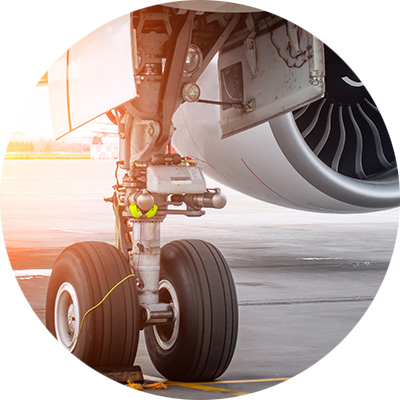 Task
Aircraft construction – Chassis nose wheel
Trimmer bolt made of 17-4 PH (Rm: 1170 – 1310 N/mm²)
8 mm deep blind hole thread ¼-28 UNF-2B for grease nipple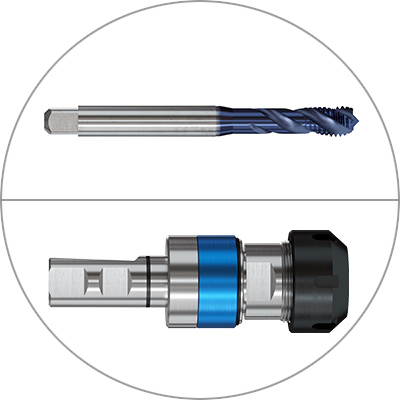 Solution
NORIS SALOREX VR
Blind hole taps for high-alloy steels.

HSSE-PM substrate for highest performance.

NORIS HELIXPRO 1
Acts as damping element between synchronous spindle and tap/thread former and thus compensates pitch differences between thread tool and synchronous spindle
Has the high concentricity accuracy of a rigid tool holder
Clamps the tap/thread former firmly with collets with square receptacle
Does not require tools with special shanks
Ensures process reliability during synchronous thread production

Minimum length compensation for efficient thread cutting

Customer benefit
Process reliability
Persevering
Best quality
REIME NORIS also has the right solution for your task